Trekking – Camping – Kayaking - Snorkeling in Catba Natural Park and Lan Ha bay
( 02 days / 01 night tour )

Pick up/Drop off from your hotel/homestay in Cat Ba town
Day 01: Lan Ha bay - Catba National Park ( Lunch and Dinner included )
08.00 Take a taxi boat to Viet Hai village located in the heart of natural park. Ride bicycle pass the valleys and rice field to the village, 2-3 hours trekking through the mountain rain forest and valleys, climb up to the top of the mountain, Navy Peak where you have a great mountain and bay view. Walk down and ride bicycle back the boat, continue the boat to Lan Ha Bay.
13.15 Have lunch on boat.
14.30 Enjoy a kayaking expedition to discover the green bay, snorkeling to see the coral reefs
17.00 Camping on a deserted beach, swimming.
19.00 Have dinner with BBQ at camp – fire. Overnight in the camp or bungalow (depend the weather).
Day 02: Lan Ha bay - Catba Town ( Breakfast and Lunch included )
After have breakfast, boat takes you to Ha Long Bay, enjoy with hundreds of limestone island. Keep cruising to Ha Long Bay to sightseeing the most beautiful landscapes at less touristy areas. Kayaking through the rock arch to hidden lagoons and tunnels to discover the Bat cave, Dark and Bright cave (or Hang Ca).
11.15 Seafood lunch on the boat.
Swimming at secluded sandy beach at Ba Trai Dao lagoon. Snorkeling is optional..
Return to Cat Ba town at 12.30 (if you need to go back Hanoi), If you stay another night in Cat Ba town, we will drop of at your hotel/homestay. End of our service
This trip is included:
- Boat, kayaks, snorkeling gears, dry bags, headlamps, camping equipment or bungalow, swimming , entrance fees, all meals, drinking water, English speaking local guide
This trip is excluded:
- Drinks are not mentioned
- Gratuities and Tips
Price: 146US$ - 236US$ in the small group of 2-8 people.
Please feel free to contact us at: +84- 912 555 208. We will respond you shortly within 24h

Cat Ba Zen Retreat is a must see farmstay to relax, unwind in Catba green island . If you are having some troubles in finding your right farmstay or Halong Bay overnight cruise, please feel free to contact us at anytime, we're more than happy to assist you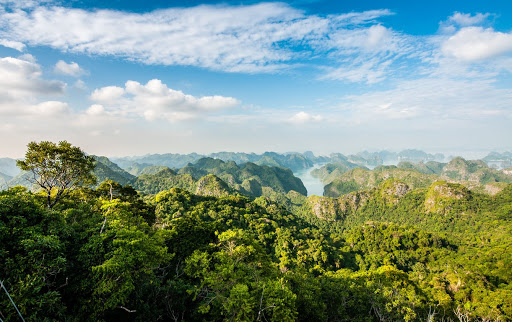 Cannon Fort - Top view on Cat Ba island
In about 1938, the French occupied Cat Ba island, after investigating the island, French army discovered that among 366 islands of Cat Ba archipelago, the moutain with the height of 177m is located in the South and meets impotant requirements for observation and self-defence in the seashore. Therefore, they choose this mountain to palce "Height 177". In 1942, they decided to arrange cannon battle field here. In some recent years, the sightseeing place "Cannon Fort" has attracted a large number of visitors and is one of indispensable attractions every visistors come to Cat Ba island. Apart from trench sections embanked with large and thick cubic meters of stone, bulky sections compared with domes going deep into hill side and enough large space for the whole delegation to pass though. All neglected and simple features bring tourists a special impression of historical evidence which is nearly undamages.

For a lovely cruise in Lan Ha bay, please explore www.blueswimmeradventures.com fore more informations
Command post of fortress
The whole fortress is under direation of command post. Orders made by the Command post will be sent to other departmants. This is also place where activities of the fortress command post as well as meetings of fighting plan happen.

Cannon no.1 and no.2 of "Cannon Fort" can control the whole gateway of Hai Phong Port. Also in this height, during the battle against war escalating to the North of American air force, Cat Ba soldiers and people came here to form an air-defence battle field with 12.7 mm cannon and rifles. In the air-defence battle on the Height 177, Vietnamese army and people shot down 6 American planes that contributed to glorious feats of Viet Nam.
Military airport
This used to be the location of French transporting helicopter. In the future, when Cat Ba is allowed to open routes, it will be the park, a favourable means for tourists to Cat Ba.

Historical Objects Showroom
There is a map table placed in the middle of traditional room to describe an overall picture of Cat Ba island focussing on the Height 177. The traditional room records a heroic time of Cat Ba's people through models, weapons, display tools and objects used to in the mighty wars of Viet Nam. This is not only tourist attraction but also education space of national history.

Love room
This place is for family members to visit and encourage soldiers who are protecting the island all day and night. It is the space to share love of parents, wife and children. From that meaning. The room is called love room.

Atomic bomb shelter
Atomic bomb shelter is also called U-Tunnel shelter because it is uniquely built based on emulation of letter U. This type of shelter not only tunnel helping soldiers to avoid enemy but also partially describes their daily life during war. The shelter can hold 500 people with dining-room, kitchen, eating room and room for patients to recover from their illness. It is designed with ventilation way up to airport area. Tourists can touch rock walls while walking to feel coolness inside the shelter.
Local Contact
Blue Swimmer Adventures
237 Cai Beo Street; Cat Ba town
Hotline/Whatsapp: + 84 - 912 555 208
www.blueswimmeradventures.com